SPX Stockholm '08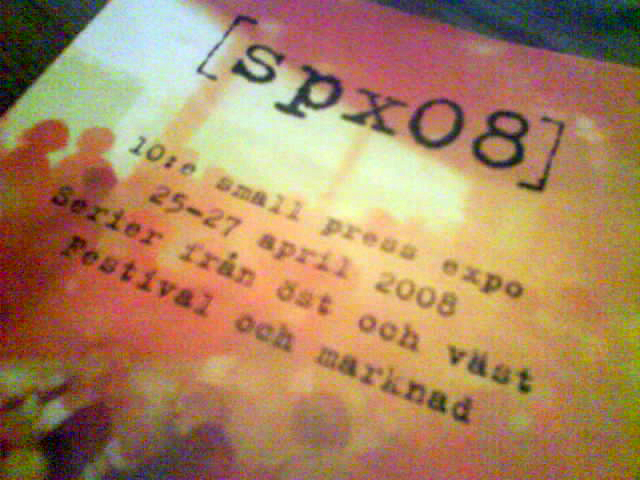 I didn't think I'd have as much fun in Stockholm as I did in London, to be honest. I think people just have a tendency to frown on their home territory, and I am no exception. But truth be known, I had a fantastic time at SPX.
Mind you they did seem very unorganised when it came to booking a table (you couldn't), and they really had no clue what to do with webcartoonists. At one point they were trying to push me into this locked, out of the way, media room, but I refused that idea and stole a spare table and set myself up right near the entrance to the con. Which was good and bad. Good because of the traffic, but bad because everyone thought I was the information desk. "No I don't know where the toilets are, thank you very much, please read my webcomic."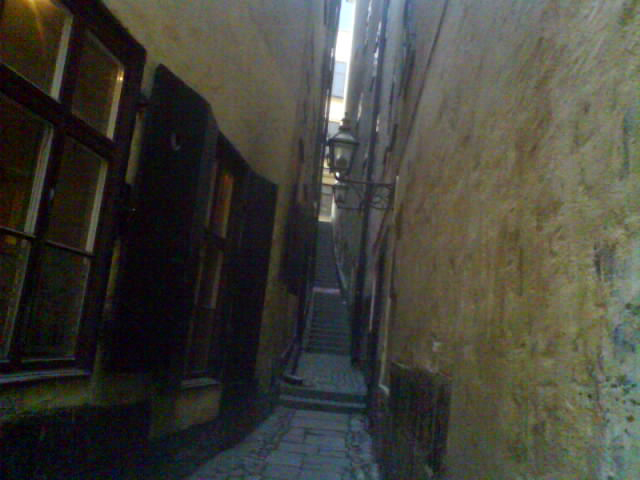 Gamla Stan narrow alleyways. SO pretty there!
I arrived rather early on Friday so I spent the morning wandering Gamla Stan. Officially, the event started on Friday, but I had been up the whole night before so I did not go to any of the opening ceremonies or lectures or whatever it was they were having that day. I went back to my hotel room to sleep and watch Crimes and Misdemeanors.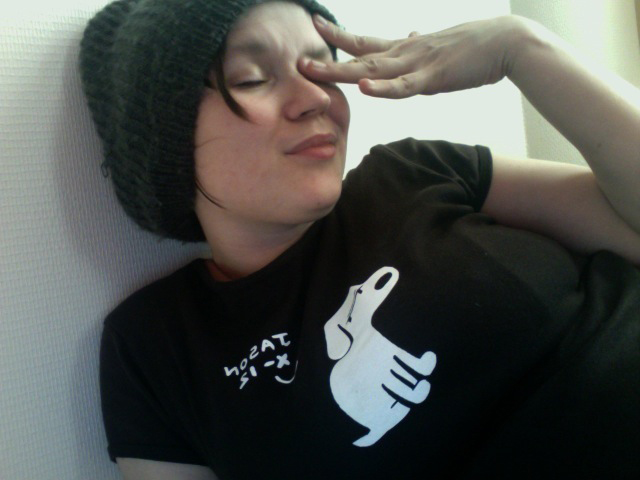 Me tired on Friday, debating whether I should go to the release party.
I did go to the
Kartago
release party for the book Mumiens Blod (
Blood of The Mummy
) by Ola Skogäng later in the evening though. They had a Japanese/Swedish fusion theme which had some interesting results. They served this Swedish-style "sushi". It was
tunnbröd
with rolled up rice, salmon, avocado with
frickin' mayonaisse
and horseradish on top. Crazy. The decor was funny too: birch tree branches with plastic cherry blossoms tied to the ends. A misfit crew of the Japanese group
Nou Nou Hau
behind the animated
"Afro Samurai"
were in attendance.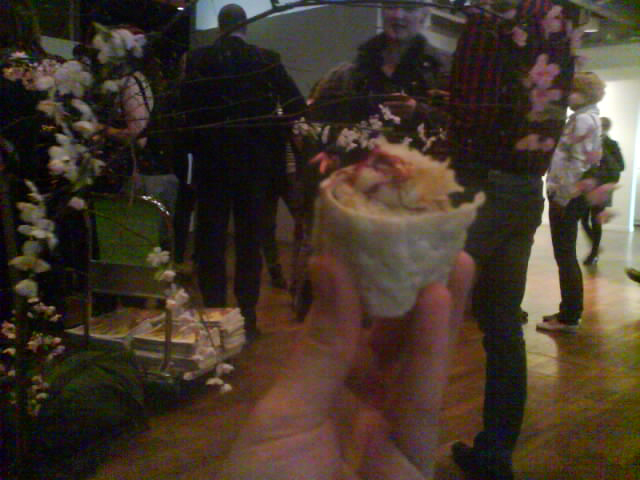 Swedish-sushi!
I also met some of the people from
Seriefrämjandet
, most memorably
Ola Hammarlund
, who could very well be Sweden's nerdiest guy ever. I absolutely adore him. He looks like he comes straight out of the 50s and he lives, eats, breathes and basically knows absolutely everything there is to know about comics. He's even pretty well versed in the webcomixs.
Saturday was when everything really happened. After sleeping in, I met up with
Jimmy Wallin
and he watched me eat breakfast before we headed over to the con. I set up my table after quite the kerfuffle over where I should sit. I met
Lisa Medin
, who was very adorable when she got all shy meeting me (she's a big ALM fan), which is really funny considering that a) we are related and b) she is quite the little comic celebrity here in Sweden. She just released a new
Medley
book, and if you speak swedish and like comics about synth rockers and girls with enormous boobies you should pick yourself up a copy.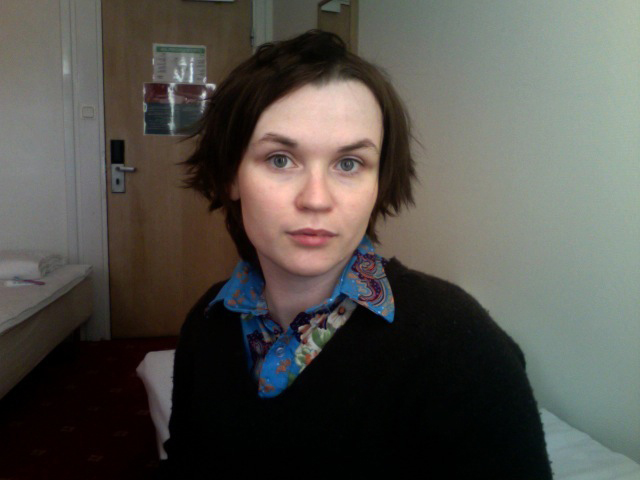 Me prettying myself up for Saturday evening.
After 6 hours of boothing it was time for a Thai buffet at Pong. I ended up sitting at The Nerdiest Table in the place. It was like being in a Harvey Pekar comic. I enjoyed it immensely, but was relieved when
Jimmy Wallin
came to my rescue and I spent the rest of the evening in the company of
Stefan Eriksson,
Adam Boman
and fridge magnet guru Åsa Svennberg (no link). The evening continued at Kägelbanan för the release party of
Simon Gärdenfors
120 Dagar
(or how many people can Simon fuck in 120 days). But seriously, it's a great, little comic documenting his life on the road. I think his rules were that he couldn't stay with one family longer than 2 days so he chose 90 different ones while he travelled through the country. The release party itself was alright. Indietechno was what people used to describe the music. The alcohol prices were inflated and holy hipsters abound!
Afterwards we continued to
Kafé 44
for a feminist comic party. It was the coziest of atmospheres. Instead of over-priced beer and indietechno music, they offered Prog and 10 kronors Peanut Butter and Jam Sandwiches with saft. The owner was also dressed up as Robin.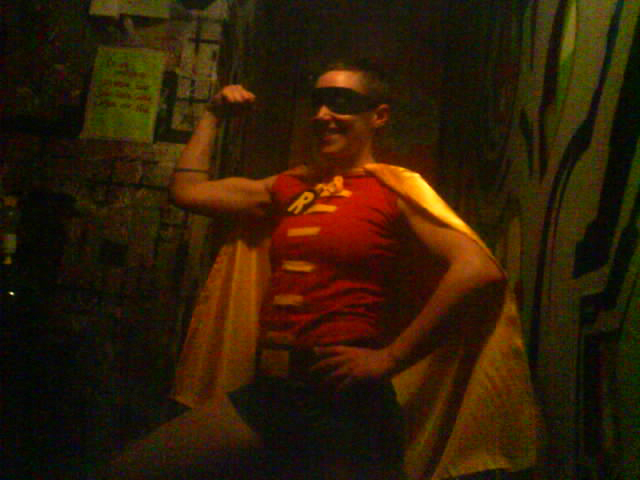 The only cosplayer I saw the whole dang day.
Aaand I'm writing this on Sunday. I slept in until 10.30, crawled up to my table at the convention around noon and nodded a few hellos (and whispered a few "fuck yous" under my breath - man some of you who came to my booth were
mean
).
Thanks again to everyone who came by and were nice to me! :) And thank you awesome guy that paid me 50 kronor (I was asking 5) for one of my reject minis, I'm sorry my sketch of Anders hugging McNinja totally sucked.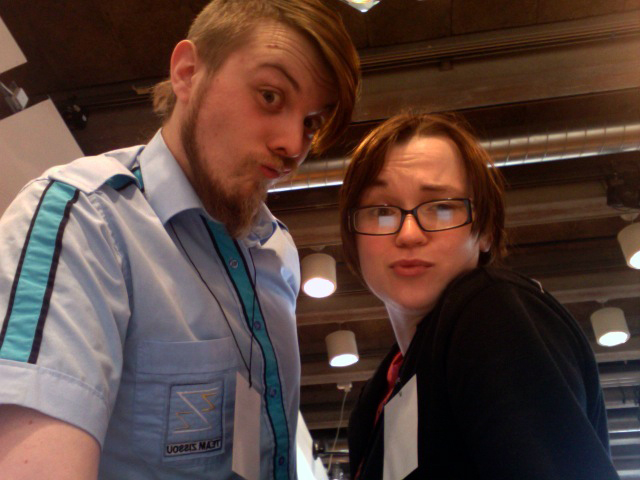 Sexy with Stefan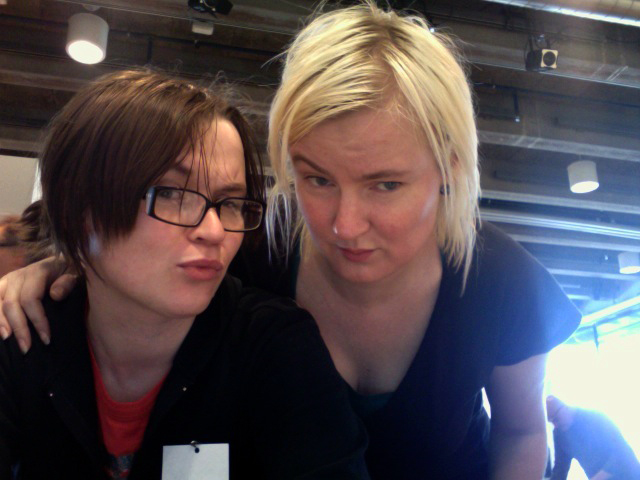 Sexy with Åsa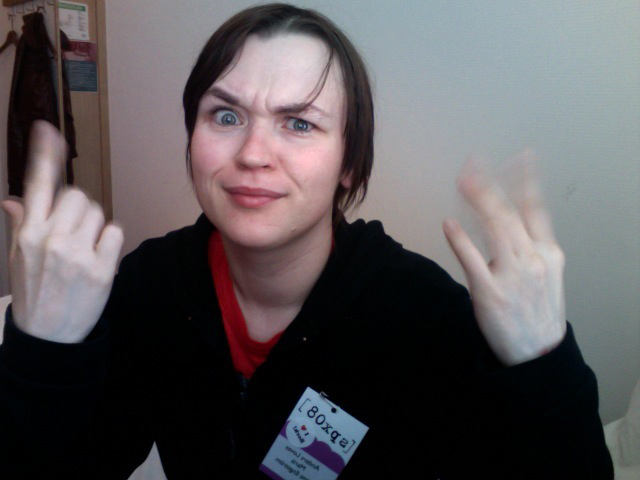 Say Stop!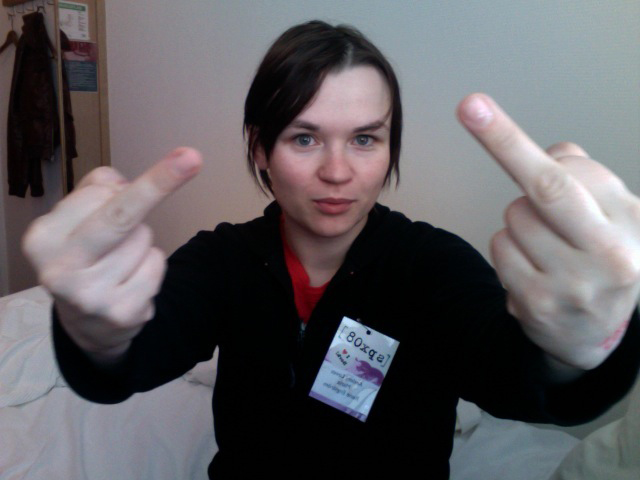 Aw would you look at that, both my fingers stopped at the middle fingers! What are the chances?
For even more pictures check out my mobile
photo blog.
Comments {9}